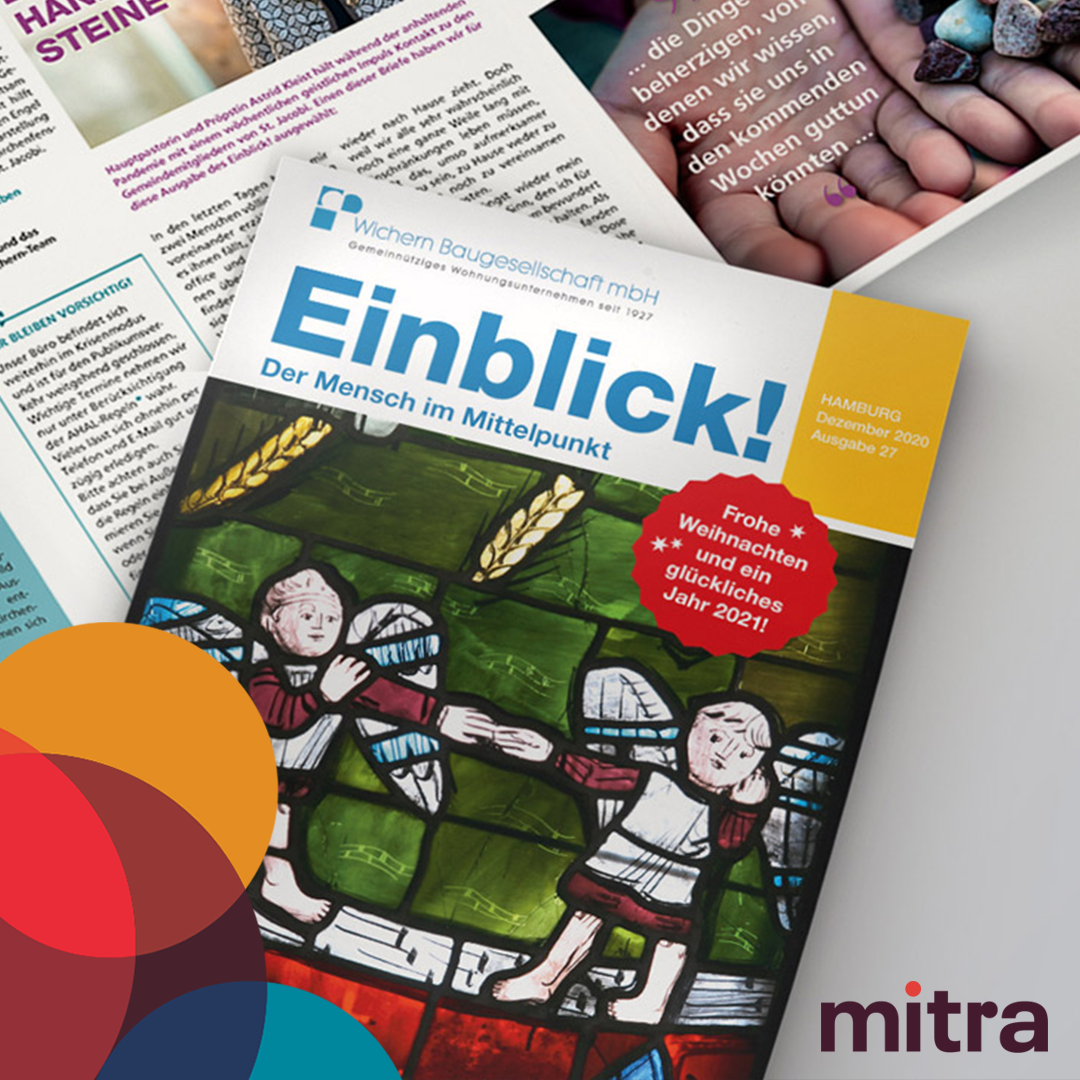 Es weihnachtet sehr. In der aktuellen Ausgabe der Mieterzeitung "Einblick!".
In der aktuellen Ausgabe der Mieterzeitung "Einblick!" weihnachtet es bereits sehr. 🎄💫
Auf dem Titel begrüßen zwei Engel die Mieter*innen der Wichern Baugesellschaft mbH: Sie sind "in natura" auf einem Glasfenster der Hauptkirche St. Jacobi in der Hamburger Innenstadt zu bewundern 👼🏼👼🏼 und wurden Mitte des 20. Jahrhunderts vom Künstler Carl Crodel geschaffen.
Hauptpastorin und Pröpstin von St. Jacobi, Astrid Kleist, macht in einem Gemeindebrief Mut, die herausfordernden Zeiten beherzt anzugehen und uns darauf zu besinnen, in unserem Alltag achtsam zu sein.
Wir haben uns um Layout und Produktion des Folders gekümmert, der in einer Auflage von 2.500 Exemplaren erschienen ist.
Und wenn Sie St. Jacobi vom heimischen Sofa aus entdecken möchten, können Sie hier einen virtuellen Rundgang machen:
https://jacobus.de/kirche-kunst/virtueller-rundgang
Damit wünschen wir Ihnen einen geruhsamen vierten Advent und ein schönes Wochenende! 🕯️🙌
Of pleasure of the moment, so blinded by desire, that they cannot foresee the pain and trouble that are bound are ensue; and equal blame belongs to those who fail in their duty through weakness of will, which is bad.